Polyurethane Sheets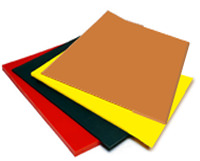 C.U.E. provides the most extensive manufacturing capabilities for producing cast polyurethane sheets in the urethane molding industry today. We have thin-gauge skived sheeting, precision molded sheets, steel or fabric-backed sheets, and cast polyurethane sheet products available frequently from stock.
C.U.E. offers cast polyurethane, skived sheeting in thickness ranges from .018" to .125" , with a 36" standard width and continuous lengths to 480 feet, depending upon thickness.   We can also supply this material in custom-width ribbon form.   This unique product offering greatly outperforms any competitive extruded material.
Our sheets are 24" x 24" ... 24" x 48" ... 36" x 36" ... and 36" x 72". Depending on the size, thicknesses from 3/16" up to 6" are available. Other sizes, even configured shapes, are also regularly manufactured.
For your large or non-standard sheet size requirements, when dimensional tolerances are not critical, C.U.E. has the capability to mold sheets up to 60" wide x 144" long via our "Open-Cast" molding process.  Such sheets are ideal for wear liner and metal-forming throw pad applications, to name just a few.  Open-Cast sheets are typically custom-molded per your size, thickness, compound, and color specifications.
Metal Backed Urethane Sheets
In addition to unbacked Open-Cast sheets, C.U.E. also open-casts both Solid and Expanded Metal-backed sheets, and Fabric-backed sheets.  Our Metal-backed sheets are available in sizes up to 48" wide x 120" long; while Fabric-backed sheeting is available in 48" widths, in lengths up to 300" (25 feet).  These sheets are ideal for use in wear liner applications.  The Metal-backed sheets may be utilized whenever some structural support is required, or bent to conform to a desired shape.  While the fabric utilized in producing the Fabric-Backed sheets enable the sheets to be glued in place.
With excellent impact, abrasion, cut and tear resistance, and superior dynamic performance, C.U.E. standard shapes will meet or exceed your needs. Just like all of our other products, C.U.E. standard shapes are molded using state-of-the-art processing equipment, in an ISO:9001 registered quality system environment.
Precision Polyurethane Sheets
Our first class manufacturing facilities enable us to produce precision urethane sheets to your exact specifications.
Availability:
While popular sheet sizes are often available from stock, most sheets are custom molded in the size, compound, and color that you request.  Typically, a sheet will be produced and shipped in one to two weeks.
Hardness Range:
Our standard compound range from 45 Shore 'A' durometer to 60 Shore 'D'.  << Click for More on C.U.E.'s Urethane Compounds
Standard Colors:
While Tan is our primary standard color, Black, Red, White, Yellow, and Natural/Unpigmented are also available.  The "Natural/Unpigmented" color typically varies depending on the compound selected, from a translucent honey color to hazy white as the material hardness increases.
FDA Food Handling:
Many of C.U.E.'s standard urethane compounds in their Natural Unpigmented color comply with FDA Register Section #177.1680 requirements for use as a dry-food contact surface. For wet-food contact applications, our WF-80 specialty compound complies with the FDA requirements.
Fabrication/Machining Guidelines
Our urethanes can be efficiently machined using conventional machine tools and most woodworking tools.  Heavy duty cutting tools must be used due to the friction developed while cutting.
A conventional, high-speed, heavy duty drill is adequate for most drilling requirements.  A sharp standard wood auger bit or a sharp twist drill bit will produce satisfactory results.
A 20 – 80 grit wheel should be used when grinding with a surface speed of 6,000 – 8,000 feet per minute.
Band saws work best for cutting.  A claw tooth metal-cutting blade with 4 – 6 teeth per inch is best for dry cutting.  For circular saws a coarse tooth carbide-tipped blade with a wide set produces the best results.  An 8" or larger diameter blade is suggested.  Blades should be lubricated with cutting oil or paraffin to reduce heat build-up and facilitate cutting.
For more information about C.U.E.'s Urethane / Polyurethane Sheets call 800-283-4621 or click to contact us.