Polyurethane Shapes
When it comes to standard urethane shapes, C.U.E. offers you literally hundreds of choices.  All of our sheets, bars, rods, tubes, and capping rings are molded in C.U.E.'s proprietary, high-quality urethane compounds, in a wide range of hardnesses, all at competitive prices.
With excellent impact, abrasion, cut and tear resistance, and superior dynamic performance, C.U.E. standard shapes will meet or exceed your needs. Just like all of our other products, C.U.E. standard shapes are molded using state-of-the-art processing equipment, in an ISO:9001 registered quality system environment.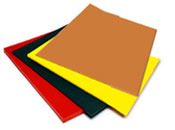 Polyurethane Sheets:
Whether your application is gasket material, metal forming, chute or hopper liners, wear or cutting pads, C.U.E. has the sheet sizes and materials to satisfy your needs. Read more about our urethane sheets.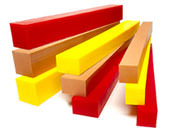 Polyurethane Bar Stock:
C.U.E. casts over 50 different sizes of precision molded urethane bar stock. Many common inch and metric sizes are currently available. This includes bars as small as 3/8"x 3/8"x 24" up to 6"x6"x48" long.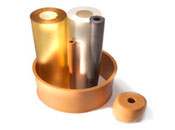 Polyurethane Rods & Tubes: C.U.E. molds Rods (solid) and Tubes (OD/ID) in hundreds of sizes.  While common sizes are stocked, most requirements are molded to order in the compound and color that you specify.  Urethane Rods and Tubes are ideal for a number of applications .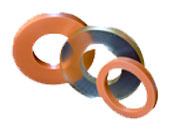 Polyurethane Rings:
C.U.E. produces a large selection of urethane rings and chuck inserts for the liquid packaging industry.  Whether you use "in-line" style, pneumatic, or electric hand-held capping equipment, C.U.E. has, or will mold, a torque element or urethane ring to meet your needs. 
For more information about C.U.E.'s Urethane / Polyurethane Standard Shapes call 800-283-4621 or click to contact us.