Timesaver® Anvil Covers
C.U.E.'s Timesaver Anvil Covers are, by design, the premier urethane cover available for the Corrugated Industry to improve productivity and die-cut quality on rotary die cutting equipment.
Timesaver benefits for rotary die cutting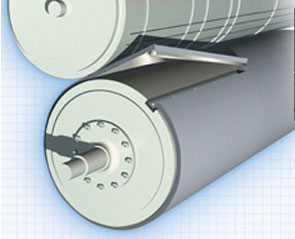 Reduced Die-Cutter Downtime: Timesaver's unique solid steel lock bar and exclusive pry bar tool allow for the industry's fastest anvil cover installation and rotation times. This equates to less costly die cutter downtime.
Improved Cut and Score Quality: A consistent surface is required for good cut and score quality with a soft anvil system. Timesaver anvil covers are molded in-the-round and precision ground to thickness. The solid steel backing guarantees dimensional stability throughout the life of the anvil cover. Timesaver's solid steel lock bar eliminates the soft spot over the keyway for consistent cutting around the entire circumference of the cylinder.
Maximized Anvil Cover Life: Timesaver's drastically reduced rotation time allows for more frequent cover rotations, maximizing cover life. C.U.E.'s proprietary urethane formulation is engineered to withstand even the harshest die cutting applications.
Dual-Width Design Available: Dual-Width Timesavers are twice as wide as standard anvil covers. This design reduces the number of seams across the cylinder for improved cut quality. Installation and rotation time is cut in half with Dual-Width Timesavers. A built in cost savings also makes Dual-Width Timesaver an outstanding anvil cover value.
Manufactured to Precise OEM Specifications: All Timesaver anvil covers are produced to exact original equipment manufacturers' specifications guaranteeing precise fit and performance from every anvil cover.
Stocked by Quality Distributors Worldwide: C.U.E.'s extensive anvil cover distribution network allows for immediate delivery worldwide. Please contact C.U.E. to find the anvil cover stocking distributor nearest you.
Timesaver Anvil Cover Anatomy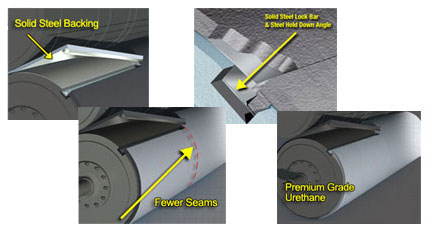 Solid steel backing
Steel lock bar & hold-down angle
Proprietary welding process
Premium grade urethane
Precision-ground cutting surface





For more information about C.U.E.'s Timesaver Urethane Anvil Covers call 800-283-4621 or click here to contact us.